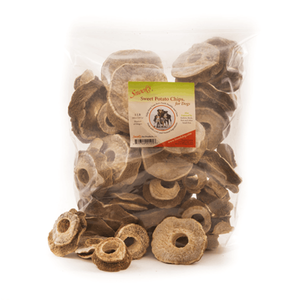 Snook's Sweet Potato Dog Chips are made from GMO Free Dried Golden Sweet Potatoes.
SECONDS (A Second is a sweet potato that dried a slightly darker color and has naturally occurring dark sugar spots. The Dogs don't care :)
Mixed sizes, mostly med to lrg pieces.
Ships in old style packaging.
Available while supply lasts in (1) order sizes: 5lb bag. (Buy two, get Free Shipping!)